In an environment of low New Homes starts and completions, emerging alternative development funding initiatives are providing some good news stories. Working in close conjunction with The Scottish Futures Trust, City of Edinburgh Council and The Scottish Government, Rettie & Co. acted on behalf of Teague Homes and successfully coordinated a transaction which has enabled construction of 145 Affordable Housing properties at Salamander Place, Leith.

Utilising the National Housing Trust Initiative, 10 year funding was secured from City of Edinburgh Council with a Scottish Government Guarantee. Contracts were then agreed between Teague Homes, Hillcrest Housing Association, Hart Builders and The Royal Bank of Scotland.

Key elements of the deal are as follows:
Short-term construction funding from RBS, lent specifically against the Government backed loan from City of Edinburgh Council
Third party off-balance sheet funding of the construction programme
Transfer of interest in all the units to Hillcrest Housing Association at point of completion 145 properties under construction on a site which would otherwise not have been developed in current market conditions
The single largest development in the National Housing Trust programme – almost 25% of all the units being delivered in phase 1 of that initiative 114 full time equivalent jobs sustained
The opportunity for tenants to rent at below market rents and to become 'place-makers' with a variety of future ownership options. Thereby taking a stake in the regeneration of this area of Leith
An event took place yesterday to mark he successful conclusion of the deal and on-site start, with parties from all key stakeholders and consultants in attendance to receive a Deal Tombstone.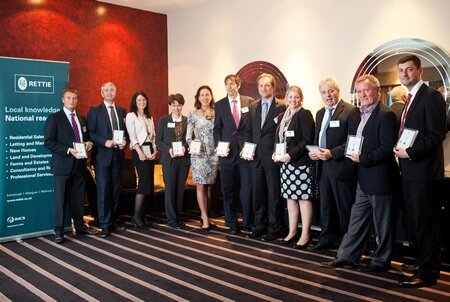 From left to right: Alasdair Deignon (RBS), Kevin Reid (Cruden Group), Tricia Brocklebank (City of Edinburgh Council), Christa Reekie (Scottish Futures Trust), Rachel Gwyon (Scottish Government), Brad Gilbert (Scottish Government), Matthew Benson (Rettie & Co), Emma Garry (Hillcrest Housing Association), David Small (Hart Builders), Gerry Teague (Teague Homes), Councillor Cammy Day (City of Edinburgh Council)

Matthew Benson, Director of Land and New Homes at Rettie & Co commented:
"The Salamander Place transaction represents a genuine public private sector partnership, with all the stakeholders innovating to produce this fantastic outcome for Leith and for the city of Edinburgh".