Long-time Edinburgh residents Paul and Kathryn Jackson had been living in a large three bedroom Victorian home and found they were not using much of its space. They decided they were ready for a change and started looking in the area.

Paul, a taxi driver, naturally knew the area around Haymarket well and was familiar with the striking Playfair Building at Donaldson's College, which is set back from West Coates. Kathryn was also familiar with the former college, having spent time working there in the past as a social worker.
"We had three bedrooms but we hardly ever used them all." says Paul. "When we first went to view Donaldson's and saw our apartment for the first time, we just thought 'wow'. We fell in love with it immediately."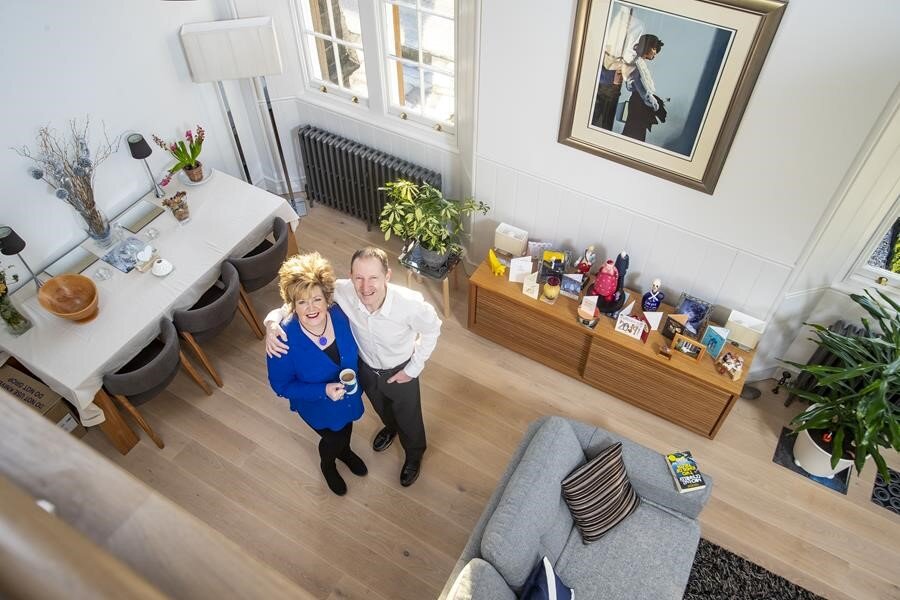 The Playfair at Donaldson's is renowned as one of the most iconic buildings in Edinburgh. Situated just moments from Haymarket station, the former college is set amidst 18 acres of elegant grounds and is dominated by the central Playfair building: a stunning quadrangular building built in the 1840s and designed in the style of an Elizabethan palace.
"It's such an iconic building and people often pass it and wonder what it is because it has such a grand appearance. It gives off the same striking impression as when you first see Edinburgh Castle. Coming up the drive you really feel like it's a privilege to call the building home."
Undergoing an extensive and meticulous restoration, The Playfair now offers beautifully restored apartments in a wide variety of sizes, from studios to three bedroom residences.
Discussing their new home, Kathryn continues: "Having previously lived in a large Victorian conversion, it's great to still have such a sense of space and height in our apartment. We have beautiful windows that let in lots of light and you don't feel short of space at all. The grounds are beautiful too and we'll use them when the weather is nice."
Paul adds: "We viewed a few different options and as an ex-carpenter I really noticed the quality of the finishes throughout the building. They were of much higher quality than the other options we saw and you really feel like City & Country have looked at the fine details here. The specification is second-to-none and communal areas are fantastic."