In 2020 the world was put into lockdown. No family visits, no parties, no viewings.
We were forced into a situation that put a halt on our normal way of working. Since then we have been actively adapting our procedures to better, more efficient ways of working, prioritising the safety of our tenants and landlords.
The impact of COVID has caused the industry to make a seismic shift forward utilising state of the art technology, and with face to face viewings limited, the demand for virtual tours has risen dramatically since the beginning of lockdown.
Since the reopening of the housing market in June, we have been flooded with enquiries when we are launching properties. With many applicants keen to secure properties and tenancies on the strength of video tours alone, we are putting properties to closing dates, lessening the time that properties are on the market and reducing void periods. One flat was launched at 9am and was let by 5pm!
We are delighted to be working alongside some of the best property marketing agencies in the business. We cannot understate how beneficial their marketing assets are for the marketing of your property both now as we emerge from the current crisis and into the future.
We have now had over 80 Matterport tours and floorplans produced and the response has been more positive and successful than we could have hoped for!
Virtual tours allow applicants to view at a convenient time and location to them, broadening the number of people able to view the property which would be limited if this were done in person. The appeal of the virtual tour is already clear to see amongst potential tenants, the interactive nature of the tour allows the user to move around the property at their own pace, inspect and measure any aspect of the space in 360 degree detail, and crucially, will allow them to 'view' the property safely 24 hours a day at a time and location that suits them. Applicants are being far more inquisitive and they are asking for a much greater level of detail before even considering a face to face viewing which is a notable shift. The convenience of applicants being able to view virtually cannot be underestimated in the circumstances we all find ourselves in.
If you had told us 7 months ago this is how we would be working, we would not have believed you. We had been asked before to facilitate virtual viewings and we didn't consider this an option. We have proven over a past few months that we can and have done so successfully. The situation that we are living in is not going anywhere soon and we do not see ourselves going back the way.
We have been able to accommodate more 'viewings' than we ever would have before, broadening the pool of applicants, allowing us to narrow down the most suitable tenants (and filter out the time wasters).
Videos allow us to adapt to meet the challenges we face now and as we embark upon this new letting journey. This is an investment for not only now but also the future as Covid-19 will have a lasting effect on what we previously knew as the normal way to view properties.
As the situation progresses, and with the threat of future lockdown situations and tightening restrictions, we are taking this opportunity to future proof the letting of your property.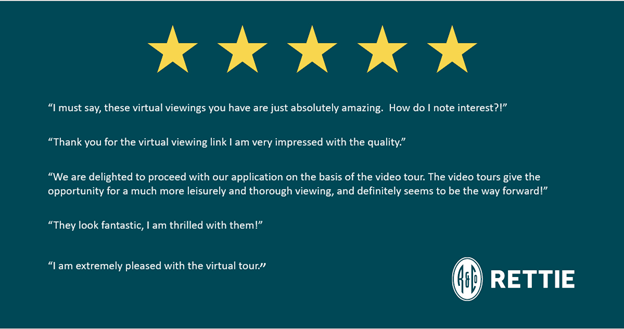 The feedback from landlords, applicants and tenants on move in has surpassed our expectations!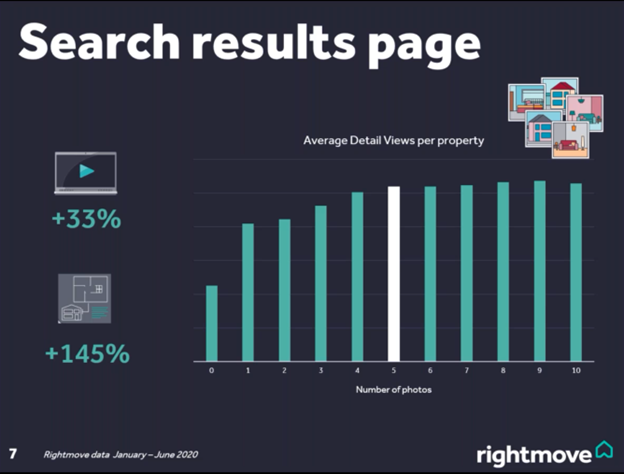 Details views of Rightmove adverts are up 33% for those with video content and a whopping 145% for those with floorplans.
Online viewing requests are now coming through regularly from Rightmove enquiries.