We are delighted to have won an award for the Best Supporting Organisation for the year 2018. It has been awarded by Homes for Scotland, an organisation that recognises and rewards the best in class in housebuilding across Scotland.
The award recognises:
The added value the organisation brings to the sector in general or through specific projects.
The competitive edge the organisation offers over those undertaking similar activities.
How the organisation has measured its success.
Evidence in the way of testimonials, external validation, accreditation, comparative statistics etc.
Rettie & Co. were one of only 5 organisations shortlisted for the award – all those shortlisted were invited to deliver a short presentation to the judging panel and were then interviewed.
Our submission focused on the breadth of our expertise in the residential property market, our dedicated BTR/MMR team, diverse client base and successful collaboration of the teams within Development Services.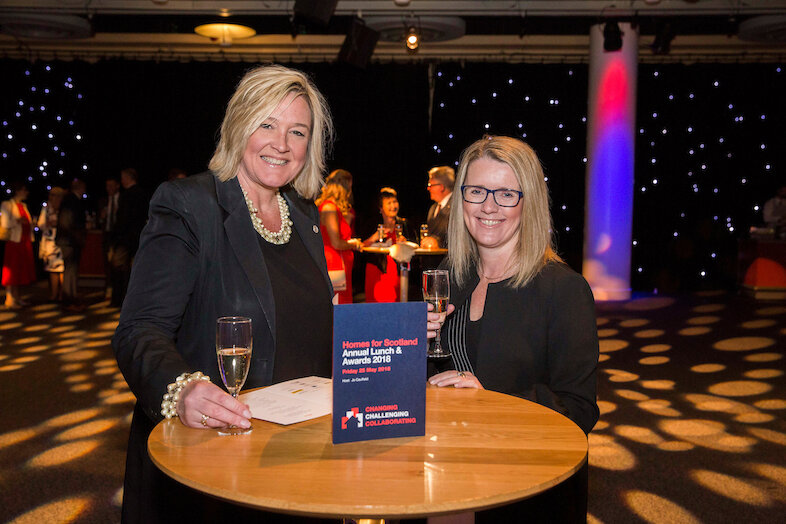 ON THE LEFT: HAZEL SHARP WEBB, HEAD OF PRS AND BTR AND KAREN TURNER, DIRECTOR OF LETTINGS.
THE HERO PHOTOGRAPH FEATURES (FROM LEFT TO RIGHT): ANDY MITCHELL (CHAIRMAN OF THE JUDGES' PANEL AND FORMER LAND DIRECTOR AT CALA), DR JOHN BOYLE, DIRECTOR OF RESEARCH AND STRATEGY AT RETTIE & CO. AND JO CAULFIELD (COMEDIAN AND COMPERE OF THE EVENT).