With London seeing negative growth in 2018, prospective landlords continue to turn their eyes north to flourishing Scottish cities that offer more affordable price points, consistent capital growth, and growing demand from renters.
Scotland is continuing to enjoy a decade of growth in house prices and rental demand. A chronic lack of supply, coupled with strong population growth and record levels of investment and development have seen Scotland's key cities, except for Aberdeen, outperform the national average year-on-year. Although Brexit has caused a slowdown in transactions and some uncertainty among participants, the strong supply and demand fundamentals allow for an optimistic outlook.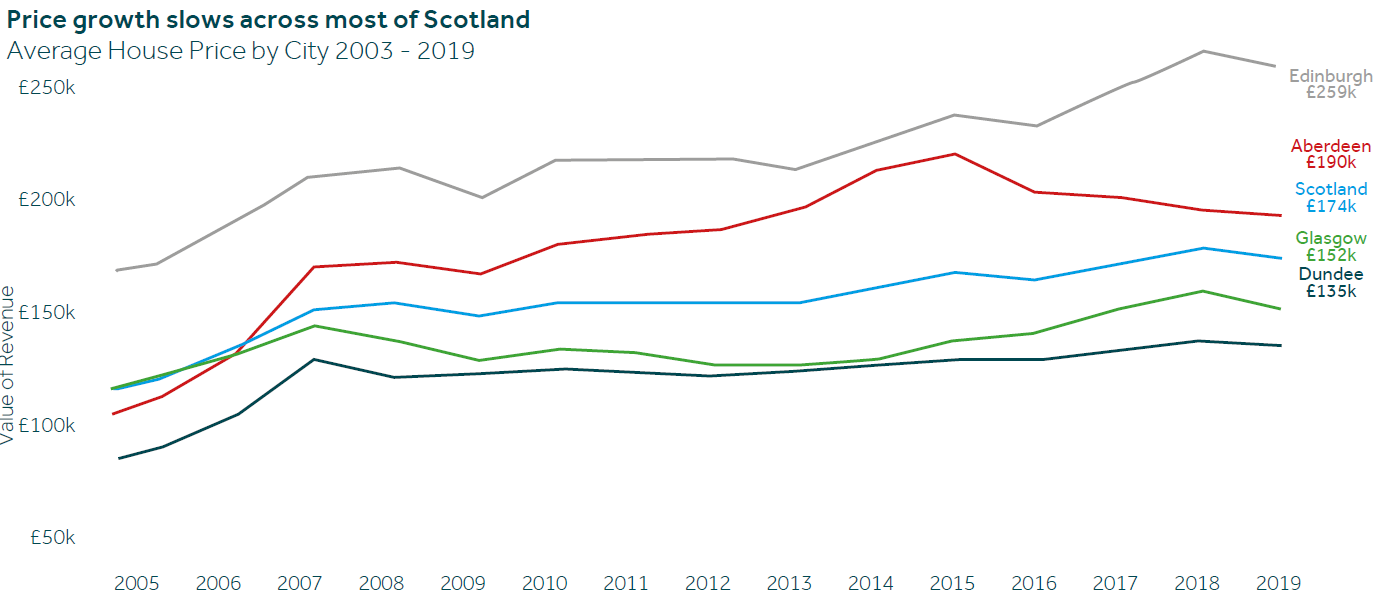 Edinburgh in Front
Edinburgh leads the field with its potent mix of visitor attractions, world-class universities, and thriving business sector that has generated consistent demand from tourists, students, and professionals alike. Over the past ten years, rental market pressures have seen average rents outstrip houses prices. Rents have increased by 46% whereas house prices have increased by 36%.
Between 2017 and 2018, the average house price has increased by 6%. The forthcoming Edinburgh St. James development, further extension of the tram network, and the regeneration project of the Fountainbridge area are but a few of the developments that have created a positive outlook for the capital and its property market.
Edinburgh offers a wealth of opportunities for families, students, and young professionals. The city boasts highly regarded schools within both the public and private sectors, offering a fantastic array of choice for parents, along with renowned universities and a strong financial and commercial sector.
Edinburgh also has a vibrant and growing café culture with a wonderful selection of bars and restaurants offering both choice and variety. A myriad of countryside and outdoor pursuits are also easily within driving distance, making Edinburgh a go to destination for those looking to invest, work, and live.

Growth in Glasgow
Glasgow has also enjoyed similar growth in recent years, with a 6% growth in the average house price between 2017 and 2018. Scotland's largest city has emerged as a hub of culture, tourism, and business that has generated significant demand from renters. Indeed, rents have increased at annual average of 4.6% over the last five years.
Glasgow is similarly renowned for its universities and secondary schools. It also boasts an expansive range of shopping, bars, restaurants, and nightlife boasted by the popular city centre. Glasgow is a large and vibrant city which is attracting fund led investment within the build to rent sphere. This will increase the properties available for rent significantly. Both HMRC and Barclays have recently announced that they will be relocating their staff and service offerings to the city. For these reasons, Glasgow appeals to both families and professionals, as well as students for their educational needs.
The average rents for Edinburgh and Glasgow show continued growth which is why it proves popular with investors. For further information on the lettings market, please read Rettie's recent lettings bulletin.
There is strong demand for one- and two-bedroom flats which do let the quickest which is the attraction for landlords as it cuts down on void periods and they can generate income quicker. The price between furnished and unfurnished is marginal in terms of the rental achieved.
A Strong Position
Looking forward, the outlook for Scotland's key cities shows positive signs compared to their southern counterparts. Concerns over Brexit have seen investor confidence rocked across the southern counties, with London seeing its property prices drop for the first time since the 2008 crash. Amidst all of this however, Scotland bucks this trend.
Record high levels of development and investment in the pipeline, above average population growth, and a historical housing shortage has created a fundamental supply and demand imbalance that shows little sign of abating. All of these factors should ensure robust growth in rental demand across Scotland's cities in the foreseeable future.

Article originally published by Bruce Stevenson Insurance Brokers.